President Xi Jinping and visiting President of the Democratic Republic of the Congo Felix Tshisekedi announced on Friday the elevation of China-DRC bilateral relations to a comprehensive strategic cooperative partnership.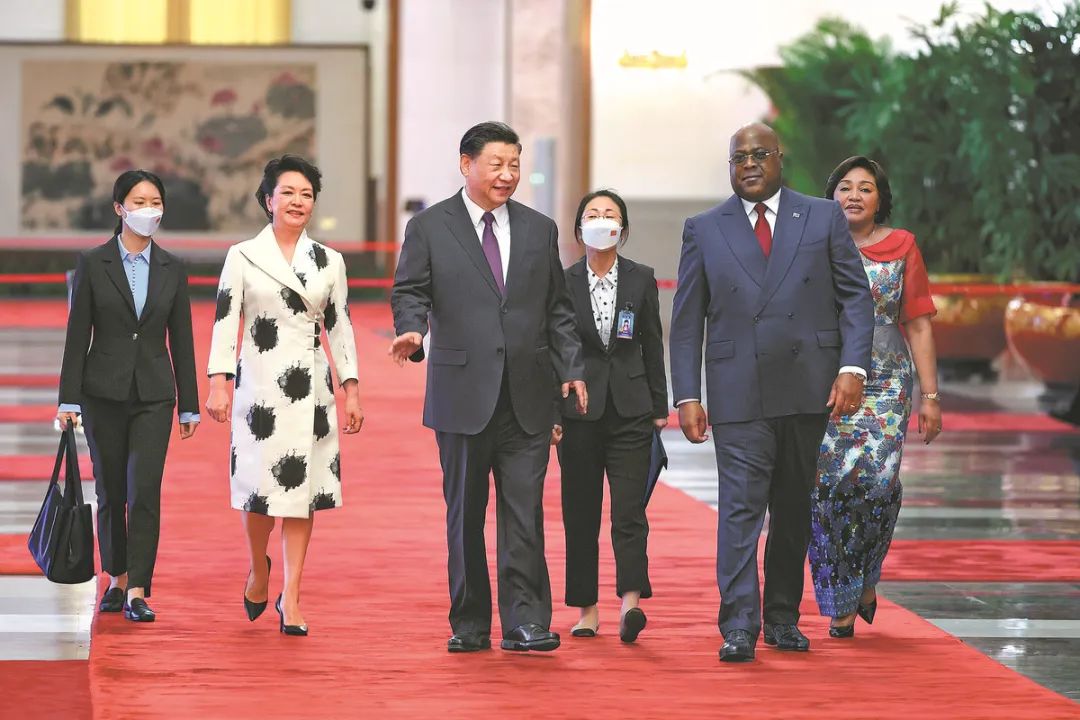 ▲ President Xi Jinping and his wife Peng Liyuan welcome visiting President of the Democratic Republic of the Congo Felix Tshisekedi and his wife Denise Nyakeru Tshisekedi at the Great Hall of the People in Beijing on Friday. [Feng Yongbin / China Daily]
They also pledged during their talks at the Great Hall of the People in Beijing that the two countries will enhance mutual support for each other's core interests. Tshisekedi is paying a state visit to China from Wednesday through Monday.
Both presidents exchanged views on bilateral ties, China-Africa relations and international and regional issues of common concern, and reached an important consensus in broad fields, according to a joint statement released after their meeting.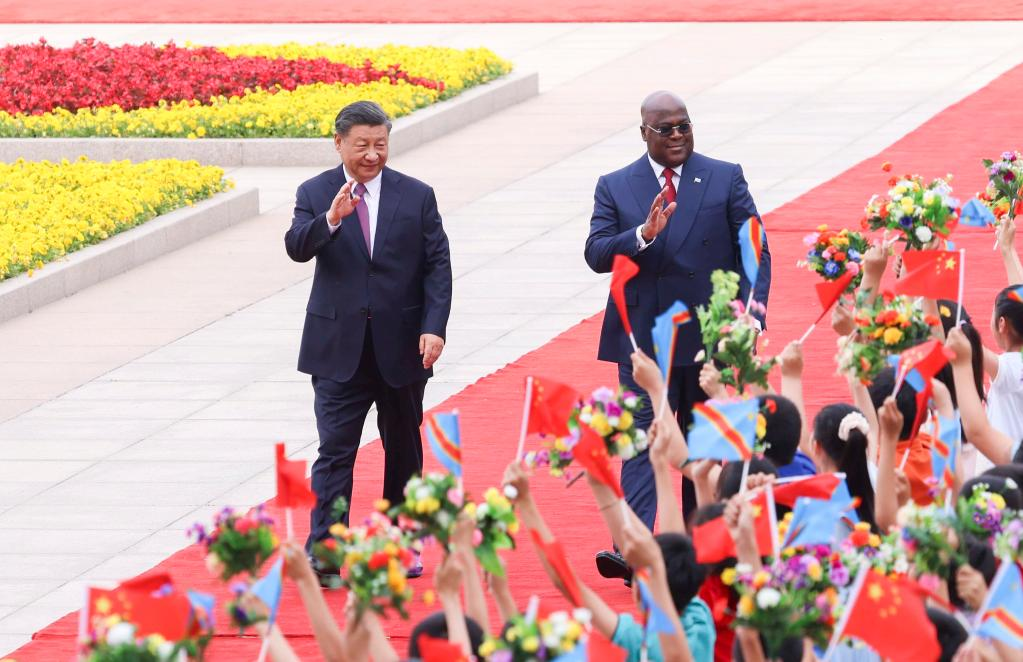 ▲ Chinese President Xi Jinping holds a welcoming ceremony for President of the Democratic Republic of the Congo (DRC) Felix-Antoine Tshisekedi Tshilombo at the square outside the east entrance of the Great Hall of the People prior to their talks in Beijing, capital of China, May 26, 2023. Xi held talks with Tshisekedi, who is on a state visit to China, in Beijing on Friday. (Xinhua/Liu Weibing)
They agreed that the countries' strengthening of mutual support on issues concerning their core interests is at the center of China-DRC relations, according to the joint statement.
The DRC reiterates that it firmly adheres to the one-China principle, and maintains that Taiwan is an inalienable part of China, the statement said. It opposes all words and deeds that undermine China's sovereignty and territorial integrity.
They also agreed that both countries will support each other on international affairs, and jointly safeguard the international order underpinned by international law and the norms of international relations, the statement added.
During the talks, Xi hailed the countries' traditional friendship and the development of bilateral relations, saying that China and the DRC are strategic partners who share many opinions on important issues and work shoulder to shoulder.
He mentioned the fruitful trade and investment cooperation between the two countries in recent years, and said that they have formed a close community of shared interests and a shared future.
Xi said that China's successful experience in modernization shows that developing countries have the right and ability to explore modernization paths suited to their own national conditions.
China is willing to strengthen alignment with the DRC in development strategies and support each other on the path of development and revitalization, Xi said.
China's high-quality development will provide more cooperation opportunities and a broader market for the DRC, and promote the further development of bilateral ties, he added.
Xi noted that China is willing to continue to help the DRC in its economic and social development and support the country's industrialization strategy. He expressed his hope that the DRC will provide policy support and convenient services for Chinese enterprises to invest and start businesses in the country, and create a fair, just and safe business environment.
China is willing to strengthen coordination and cooperation with the DRC in multilateral affairs, jointly practice true multilateralism, and uphold international fairness and justice, he added.
Xi stressed that China and Africa have always been a community with a shared future. In the current international situation, China and Africa need to strengthen unity and cooperation more than ever before, he said.
Both sides should uphold the basic norms of international relations, oppose all forms of hegemony and power politics, oppose interference in the internal affairs of other countries, and safeguard the common interests of developing countries, Xi said.
Tshisekedi expressed appreciation for China in supporting the DRC in its socioeconomic development.
He said the DRC is willing to deepen cooperation with China in the fields of trade, resources, infrastructure and healthcare, and strive to build a mature, stable and pioneering DRC-China relationship to benefit the two peoples.
On Friday, Tshisekedi also met in Beijing with Premier Li Qiang and Zhao Leji, chairman of the Standing Committee of the National People's Congress, the nation's top legislature.
Reporter: Cao Desheng